Product Overview
DS9C is a great moisture and temperature controller that fits the budget. It is able to detect moisture and temperature that is able to control up to 2- 120V or 240V or combination of Circuits up to 30A AC per circuit.
The ASE DS series of sensors and controllers provide a balance between price, sophistication, and control capabilities and capacities. Each unit is housed in a sturdy NEMA 3R enclosure rated for outdoor use. All internal electronic components are spec'ed for -40oC to +85oC operation. All line voltage units are ETL UL Standard 508/CSA C22.2 No. 14 Listed and European CE EMC directives have been achieved, opening the door for both domestic and overseas use.
If you are tired of throwing old sensors away with no possibility of repair, take a look at the DS series. Unlike "p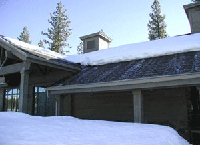 otted" sensors and controllers, every DS unit offers full access to the sensor electronics. This unique design allows configuring and adjusting the unit for most efficient operation. The precipitation sensor may also be replaced in the field. Why replace the whole controller when an inexpensive precipitation sensor may restore your system to "like new" performance?
Tired of stocking 10 different part numbers for the same basic sensor? At ASE, we exploit our microcontroller design to the fullest. Every line voltage DS unit can accept and control any input supply from 100VAC to 277VAC. All options and adjustments for each unit are field selectable. This allows covering all of your requirements while keeping your stock low and lead times short. Pigtail cable color codes conform to international standards and all units now ship with a 3/4" base conduit hub and a 3/4"-to-1/2" threaded reducing bushings. One sensor = one part number. Standardization means fewer variants, lower costs, and less inventory requirements for you.
Basic Theory of Operation
All DS units operate by detecting environmental conditions through a base mounted temperature sensor and a heated precipitation sensor. When rain or snow land on the precipitation sensor the traces are bridged and a closure is detected. The heater then rapidly evaporates the moisture, clearing the sensor. DS-9C precipitation sensors are connected to a 10 foot cable and are intended for remote mounting, either on a feed boom for satellite antenna deicing or in a gutter or downspout for roof deicing.
These signals are then supplied to the microcontroller. Depending on the way the user has configured the sensor the microcontroller determines the appropriate action to perform.
The difference between "sensor" and "controller" modes is the "Delay Off" drying cycle provided by each configuration. "Delay Off" time is the amount of time the sensor/controller will hold the load control relay(s) closed after the last detection of rain or snow. Proper setting of "Delay Off" assures that pavement or roofs not only melt but also dry, reducing the chance for dangerous refreezing of water left behind. A sensor is used to activate an external control unit when rain or snow is occurring. The external control unit activates and operates the deicing system as required. A controller is expected to not only detect snow or rain conditions but to also directly control the attached equipment. A DS series unit set as a controller provides a longer delay off time, typically 30-90 minutes or 2-6 hours, allowing the heating system to dry the surface and prevent refreezing.
All DS units provide a remote "control/monitor" interface, a point where ASE or customer supplied devices can be connected to remotely monitor activation of the system and/or manually activate or disable the controller. Some units also feature a built-in switch to perform these same control functions directly from the sensor. The wall-mounted CDP-2 Remote Control/Status Panels may be directly connected to any DS series sensor/controller in order to provide both remote control and monitoring of DS sensor/controller operation.

Reliable Rain and/or Snow Detection


Can Also Function as a High Power Intelligent Thermostat


Line Voltage Units:
Supply - Universal 100-277V AC 50/60 Hz Operation, No Strapping Required
Control - Full 30A @ 277V AC, 20A @ 28V DC


Inexpensive, Replaceable Precipitation Sensor


Easy Installation, Full Access to Electronics


Standard 3/4" NPT Conduit Hub, Includes 3/4" to 1/2" Reducer


Adjustable Temperature Trigger Point


Adjustable Delay Off Drying Timer with 30-90 Min or 2-6 Hr Ranges


Adjustable Precipitation Sensitivity


Super Bright Power/Activation LED Indicator


Simple Remote Control/Monitor Capability


Selectable Low Temperature Cutoff With Unique "Recover" Mode


External Manual On-Automatic-Standby Override Switch


Smart "Manual On" Operates for One Delay Off Cycle


Remote Control/Monitor Devices Are Available (See Accessories)